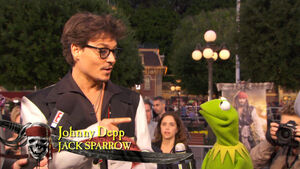 Johnny Depp (b. 1963) is an Academy Award nominated American actor, best remembered for his roles in Disney's Pirates of the Caribbean films, as well as his many collaborations with Tim Burton, including Sleepy Hollow and Alice in Wonderland.
Depp was interviewed by Kermit the Frog at Disneyland's "black carpet" premiere of Pirates of the Caribbean: On Stranger Tides. Prior to filming his role in the film, Depp appeared at the 2009 D23 Expo where the film was announced.
Depp spoke to Empire magazine about his favorite Muppet: "Animal. There's a certain irreverence that I like."[1]
Among Depp's other credits are playing Peter Pan playwright J. M. Barrie in Finding Neverland (with Dustin Hoffman), Benjamin Barker in the Tim Burton adaptation of Stephen Sondheim's Sweeney Todd and the television series 21 Jump Street.
References
For an interview with CNN, Miss Piggy lists Johnny Depp among her crushes, other than Kermit.[2]
Sources
External links