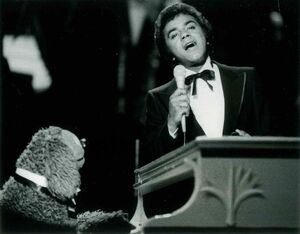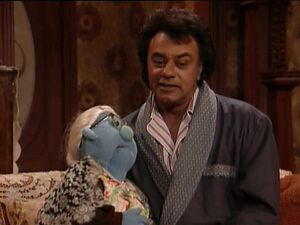 Johnny Mathis (b. 1935) is a pop singer whose hits include "Chances Are" (#1 in 1957), "Misty," "When Sunny Gets Blue," "Wonderful, Wonderful," "Maria" and "I'm Coming Home." In 1978, he and Deniece Williams scored a #1 pop and R&B duet with "Too Much, Too Little, Too Late."
Mathis originally recorded "Never Before, Never Again" to be used for Miss Piggy's dream sequence when she meets Kermit the Frog in The Muppet Movie, however this recording was not used in the final cut of the film.[1] He did perform the song later with Rowlf the Dog on the 1979 TV special The Muppets Go Hollywood.
He also made a special cameo appearance in Muppets Tonight episode 212, and appeared in Holiday Greetings from The Ed Sullivan Show which also featured the Muppets.
More than 60 of Mathis' albums have been certified gold and/or platinum. "Johnny's Greatest Hits" (1958) remained on Billboard's pop album charts for 490 weeks. "Heavenly" (1959) remained on the pop charts for 295 weeks. His first Christmas album, titled "Merry Christmas" (1958), is a perennial bestseller. He received a Lifetime Achievement Grammy Award in 2003.
Sources
External links