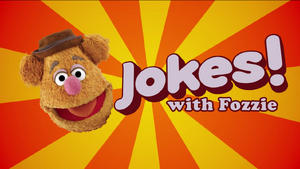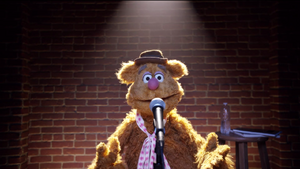 Jokes! with Fozzie is a series of web videos posted to the Muppet's official YouTube Channel, beginning on May 15, 2015. Billed as "Fozzie's Bear-ly Funny Fridays" on the channel and Disney.com, a new video was released each Friday from May through November. 24 videos were released. The videos were also uploaded and published on the Muppets Facebook and Twitter accounts each week. The videos were produced as part of the The Muppets at YouTube Space LA collaboration and were shot in March 2015.
In each video, Fozzie Bear is seen telling a joke (many borrowed from The Muppet Show) at a comedy club. The audience responds negatively as usual and he's removed from the stage in various ways (be it with a net, pelted with items or the trap door). The videos feature occasional appearances by other Muppet characters, including Bobo the Bear, Pepe the King Prawn, and Beauregard.
Videos
See also
Community content is available under
CC-BY-SA
unless otherwise noted.