Jon Batiste (b 1986) is a musican and bandleader from Kenner, Louisiana. He serves as the music director and bandleader for The Late Show with Stephen Colbert.
In February 2016, Batiste had an impromptu jam session with Kermit the Frog in a web video shot during Kermit's visit to The Late Show earlier that month. In the video it was revealed that Batiste and Kermit went to Juilliard together.
In June 2021, he appeared at the Sesame Workshop Benefit Gala, performing "Believe in Yourself" with Elmo, Abby Cadabby, and Tamir. He later appeared on the show in Episode 5202 to perform a new version of "The People in Your Neighborhood." Of the appearance, Batiste commented "I'm really so grateful. I've watched it since I was a kid, and always dreamed of being there. You go there, and it's so much like you remember, in person... it's just so emotional to be there."[1]
Batiste attended St. Augustine High School in New Orleans — he wore its jacket in his Sesame Street appearance — and received a master's degree from the Juilliard School.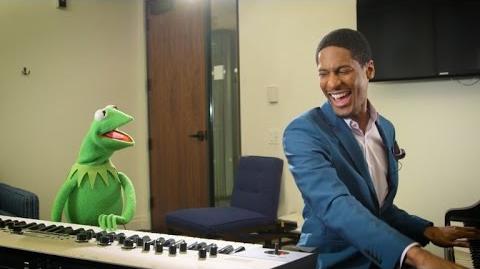 Sources