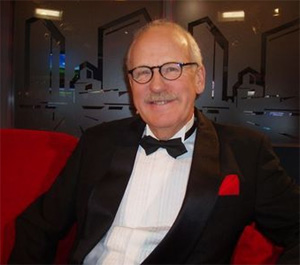 The entertainer Jon Skolmen (b.1940) voiced various characters, most notably Miss Piggy, in En Muppet Julefortelling, the Norwegian dub of The Muppet Christmas Carol.
Skolmen has a long and successful career behind him. He was employed at NRK from 1969 to 1981, where he mainly created a long list of Norwegian children's shows, and he is mostly remembered from the show Jon med skrivemaskinen (Jon with the typewriter). Some of the most famous movies he made are the five Selskapsreisen movies in which he played the role of Ole Bramserud. In 1976 he and Trond Kirkvaag were rewarded with the the Chaplin Award and the Press Award in Montreux for their TV show The Nor-Way to Broadcasting.
Other voice credits include Finding Nemo and Chicken Little.