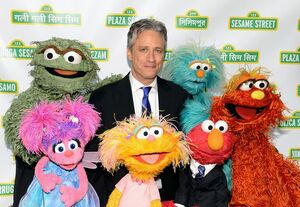 Jon Stewart (b. 1962) is a comedian best known as the host of The Daily Show, a late-night comedy news program on which the Muppets have appeared. Stewart originally got into stand-up comedy as a result of working as a puppeteer performing for children.[1]
In 1998 (one year before he joined The Daily Show), he appeared as himself to host Elmopalooza, with Prairie Dawn producing. Although the story involves the two being stuck in a dressing room with the rest of the production crew for the majority of the special, he joins the Sesame Street cast for the finale, singing "Songs."
In 2000, he appeared on a celebrity edition of Who Wants to be a Millionaire? with Kermit the Frog as his guest in the audience.
In Season 38, he appeared from The Daily Show studio to present "practice" as the Word of the Day on Sesame Street Episode 4156. (YouTube) He has similarly appeared in inserts shot on The Daily Show set for Between the Lions.
Stewart, a Peabody Award winner, appeared with Kami at the 2005 Peabody Awards Luncheon. He also hosted the 2012 Annual Sesame Workshop Benefit Gala.
Sources
External links