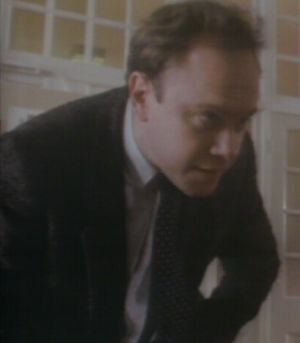 Jonathan Coy (b. 1953) is a British actor who played Matt's teacher in The Jim Henson Hour special "Monster Maker." A busy television actor, Coy was a regular for the entire run of Rumpole of the Bailey (1978-1992, usual intermittent British scheduling), playing Henry, the brusque clerk with a penchant for amateur dramatics. More recently, he recurred on Downton Abbey as solicitor George Murray.
Coy's other TV credits range from an early stint on the soap opera Coronation Street to the syndicated series The Secret Adventures of Jules Verne (semi-regular as Sir Jonathan Chatsworth, liaison to Queen Victoria). He appeared in the period adventure series Hornblower (four TV movies as Lt. Bracegirdle) and The Scarlet Pimpernel (as the Prince of Wales) along with guest spots on Poirot, The Bill, The Return of Sherlock Holmes, Foyle's War, Scarecrow and Mrs. King, and Rome.
His career also includes the inevitable forays into TV versions of Dickens (Charles Cheeryble in 2001's Nicholas Nickleby and Rev. Pratchett in 2007's Old Curiosity Shop), Jane Austen (John Thorpe in the 1986 Northanger Abbey), and George Eliot (Dunsay Case in 1985's Silas Marner, Pym in Adam Bede, and Naumann in 1994's Middlemarch).
External links