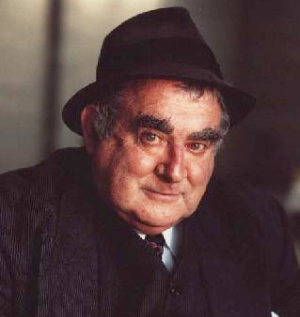 Jonathan Hardy (1940-2012) was a New Zealand character actor and writer who voiced Rygel XVI in all four seasons of Farscape, Farscape: The Game, and Farscape: The Peacekeeper Wars. He also appeared on-camera as Kahaynu the builder in "I Do, I Think" and "The Maltese Crichton." Hardy spoke affectionately, if inaccurately, of his time as Rygel to the BBC, asserting "What else could one do to culminate a career than to become a very great international star as the voice of a Muppet?"
Hardy received an Academy Award nomination for his screenplay for the 1980 film Breaker Morant (starring Edward Woodward). As an actor, working primarily in Australia, credits include the acclaimed 1976 film The Devil's Playground (as one of a group of frustrated teaching monks), Mad Max (with Mel Gibson, as Commissioner Labatouche), Baz Luhrmann's Moulin Rouge! (as the Man in the Moon, with singing voice dubbed by Placido Domingo), The Adventures of Barry McKenzie (with Spike Milligan and Barry Humphries), The Delinquents (with Kylie Minogue and Melissa Jaffer), and Ned Kelly (as the Great Orlando). Television includes the Australian series Prisoner, the 1989 revival of Mission: Impossible, Twisted Tales, and the TV movie The Thorn Birds: The Missing Years.
External links
Community content is available under
CC-BY-SA
unless otherwise noted.