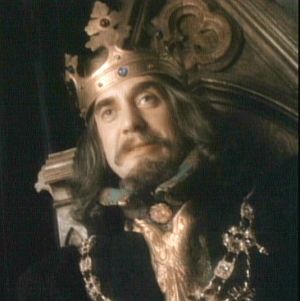 Jonathan Pryce (b. 1947) is a Welsh actor who has alternated between principal supporting roles in mainstream films and leading roles in more experimental movies, like Brazil. Pryce appeared in The StoryTeller as the king in "The Three Ravens."
Pryce began his acting career with The Royal Shakespeare Company. Appearances in BBC TV adaptations followed, along with radio work. Notably, Pryce appeared in the second radio series of The Hitchhiker's Guide to the Galaxy, in the small role of an autopilot and the more significant part of Zarniwoop, who he would reprise decades later in the fifth and final radio series in 2005. A favorite of Terry Gilliam, Pryce worked with the director not only as protagonist Sam Lowry in Brazil (with Ian Holm and Jack Purvis), but in The Adventures of Baron Munchausen and The Brothers Grimm. He also played the sinister Mr. Dark in Something Wicked This Way Comes, client James Lingk in Glengarry Glen Ross (with Jack Lemmon and Alan Arkin), Juan Perón in Evita, and James Bond villain Eliot Carver in Tomorrow Never Dies. He played Governor Weatherby Swann in the first three Pirates of the Caribbean movies.
On stage, Pryce's performances in Broadway musicals include the Engineer in Miss Saigon, Fagin in Oliver! and Henry Higgins in My Fair Lady. His cast recordings include filling the Joel Grey role of emcee in the 1993 album of Cabaret.
External links