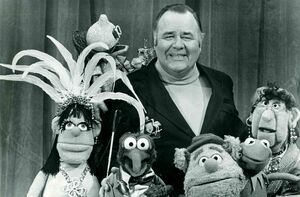 Jonathan Winters (1925-2013) was an American comedian and actor who had a long honored career in comedy, including co-starring with Robin Williams (who considered him a major inspiration for his own hailed career) on the sitcom, Mork & Mindy.
He guest starred on The Muppet Show episode 416.
Known to most as a stand up comic, Winters took dramatic turns on occasion, guesting on an episode of The Twilight Zone, and did extensive voice over work, including Pogo for President: I Go Pogo, Dr. Seuss' Daisy-Head Mayzie, Animaniacs, Garfield and Friends, The Completely Mental Misadventures of Ed Grimley, Alice Through the Looking Glass, and The Smurfs.
Winters also made a cameo in the feature film adaptation of The Flintstones (featuring effects from Jim Henson's Creature Shop), was a regular on Hollywood Squares, and his most famous film role was that of aggressive truck driver Pike in It's a Mad Mad Mad Mad World.
External links