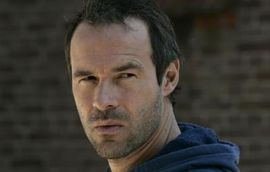 Joram Lürsen (b. 1963) served as a director on Sesamstraat, the Dutch co-production of Sesame Street.
Lürsen graduated from the Dutch Film and Television Academy in Amsterdam in 1990, taking the subjects directing, editing and production in his final exams. His final exam film De finales (The Finals) won a Mention de Qualité at the Césars Award Ceremony in France.
He directed several episodes of Dutch TV series like All Stars, Vuurzee (Sea of Fire), and Baantjer. He also directed award winning features like In Oranje (In Orange, orange being the color of the Dutch national football team) and the highly succesful Alles is liefde (Love Is All).
Lürsen received awards for In Oranje in his native country as well as international awards in countries such as Germany, Poland, Iran, Canada, and the United States. Alles is Liefde was awarded two Gouden kalf (Golden Calf) awards for Best Dutch Feature and Best Dutch Director, and three Rembrandt awards, including the one for Best Dutch Feature. In addition, Alles is liefde is the second most attended Dutch feature of the last two decades.