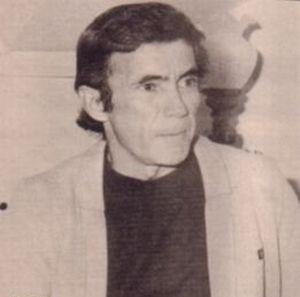 Jorge Arvizu, (July 23, 1932-March 18, 2014) nicknamed "El Tata," was a Mexican voice actor who dubbed cartoon characters from the 1950s until his death in 2014, earning him a reputation as the Spanish Mel Blanc. He was both seen and heard on Plaza Sésamo, appearing on-camera during the first few seasons as Jose, the storekeeper who loves nature and the outdoors. He was also the original dub voice of both Bert (Beto) and Cookie Monster (Comegalletas) and served as dubbing director and dialogue translator for the early seasons.
Arvizu began his career as a magician and appeared on early Mexican television. His voice career began with the Spanish-language counterpart of the puppet series Howdy Doody, as Howdy and his friend Don Burro. He soon established himself dubbing such theatrical cartoon stars as Bugs Bunny, Woody Woodpecker, Mr. Magoo, Mighty Mouse, Popeye, and Felix the Cat. In the 1960s, he was often heard in Hanna-Barbera series, as Fred Flintstone on The Flintstones, Choo Choo and Benny the Ball on Top Cat, Magilla Gorilla, So-so the monkey on Peter Potamus and His Flying Balloon, Dr. Doom on The Fantastic Four and Henry Orbit on The Jetsons.
Arvizu's other animation credits include Pedro and Dachsie in the Disney feature Lady and the Tramp and Ringo and George on The Beatles cartoon. In live-action television, Arvizu dubbed Don Adams on Get Smart, Jackie Coogan as Uncle Fester on The Addams Family, Burgess Meredith as the Penguin on Batman, and the Robot on the original Lost in Space series. Later credits included work in Pixar features, as Ramon in the Mexican and Argentinian dubs of Cars and as Chef Skinner in Ratatouille. His final role was reprising Benny the Ball on Top Cat the Movie.
External links
Community content is available under
CC-BY-SA
unless otherwise noted.