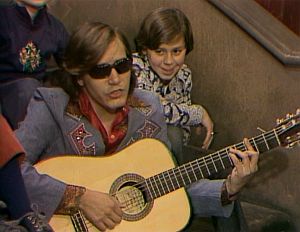 José Feliciano (b. 1945) is a Puerto Rican singer and guitarist.
In 1974, on Sesame Street's first bilingual album ¡Sesame Mucho! Feliciano sang two numbers: "Puerto Rico" and a rock version of "Bein' Green".
Feliciano also appeared on the show in 1975, singing "A World Without Music" and "The Gypsy" in episode 0763. The former was released on the 1979 album The Stars Come Out on Sesame Street.
During Season 6 he also sang "El Arroz con Leche" to the Kids. The clip is available as a Season 6 "Classic Cut" on the Old School: Vol. 2 DVD set. He similarly led the kids in singing "I Know an Old Lady."
His hit single, "Feliz Navidad" was featured in a scene with Big Bird and a little girl at a skating rink on "Christmas Eve on Sesame Street".
Community content is available under
CC-BY-SA
unless otherwise noted.