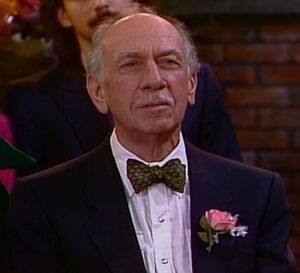 José Ferrer (1909-1992), born José Vicente Ferrer de Otero y Cintrón, was an acclaimed Puerto Rican-born actor and director, best known for his many portrayals of Cyrano de Bergerac, on-stage and on-screen, netting both a Tony Award (1947) and an Academy Award (1950). In 1988, he guest starred on Sesame Street, playing Luis' uncle, Tio José, in several episodes leading up to and including Maria and Luis' wedding.
A graduate of Princeton, Ferrer made his Broadway debut in 1935 (a small role as a cop in the comedy A Slight Case of Murder), but by the 1940s, was gaining leading roles, notably Iago in Othello. After establishing himself as a movie star, he continued to appear on stage on and off through the decades, including the musicals Man of La Mancha (Broadway and tour, 1965) and Born Again (Chichester Festival Theatre, with William Todd Jones).
Ferrer's film debut came in 1948, as Charles VII in Joan of Arc, receiving an Academy Award nomination for Best Supporting Actor. Two years later, he would win the Oscar for Best Actor, for Cyrano de Bergerac. Other notable films included The Caine Mutiny (as the impassioned Naval defense attorney), Lawrence of Arabia (opposite Peter O'Toole, as Turkish Bey), the 1952 film Moulin Rouge (as Toulouse LaTrec), Ship of Fools, and The Greatest Story Ever Told (as Herod). TV work ranged from the voice of boastful Arab merchant Ben Haramed in the Rankin/Bass special The Little Drummer Boy to guest murderers on Columbo and a recurring role on Newhart. He also directed, from the original 1951 stage version of Stalag 17 to a handful of films (The Great Man, Return to Peyton Place, and others). Amongst countless performers, he directed Sonia Manzano in the play The Living Room. In his personal life, Ferrer was twice married to Rosemary Clooney.
External links
"Street Smarts", article mentioning his appearance on Sesame Street.