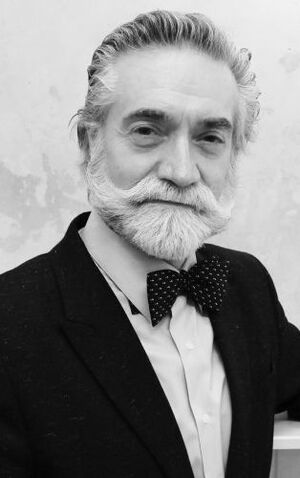 José Luis Angulo is a Spanish voice actor who dubbed Kermit (Gustavo) and Herry Monster on Juega Conmigo, Sésamo (Play with Me Sesame), which he also voice directed. He previously dubbed various minor parts on El Cuentacuentos (The StoryTeller).
Angulo is the primary Spanish voice of Bob Saget (including Full House) and David Hasselhoff (excepting Baywatch) and also dubbed Harry Groener as the Mayor on Buffy the Vampire Slayer. As a voice director, he oversaw the dubbing of Hot Fuzz, The Dark Knight, Brokeback Mountain, The Phantom of the Opera, and others.
Angulo's movie dubbing includes Lord Voldemort in the Harry Potter movies, Scooby-Doo in the two live-action theatrical films, and Mel Gibson in Mrs. Soffel. In animation, he dubbed Superman on Superman: The Animated Series, Red Tornado, Dr. Sivana, and others on Batman: The Brave and the Bold, Larfleeze on Green Lantern, and the Inspector on The Pink Panther Show.
Muppet/Henson dubbing credits
External links