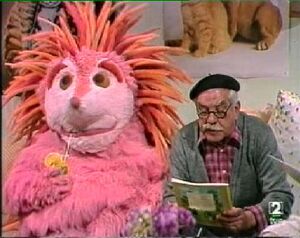 José Riesgo (1918-2002), known as "Pepe", is an actor who played Julián in the Spanish version of Sesame Street. He performed in the 1979-1980 version, as Braulio,  and again in the 1983-1987 version as Julian ,he and Alfonso Vallejo are the only actors who appeared in both versions of the show, the 1979 one and the 1983-1987 version.
Riesgo is a veteran actor from Spanish cinema, having acted in no less than 136 movies, plus five TV series.
He began acting in 1949 with small roles in dramas and comedies.
It was not until 1953, however, that he began acting in movies with international appeal, such as The Lovers of Toledo or Luis García Berlanga's Welcome Mr. Marshall, which is considered one of the best movies in the history of Spanish cinema. Because he played small roles, he could appear in seven different movies in 1956 and 1958, and even nine movies in 1959.
Riesgo was one of the usual actors for the Italian-Spanish co-productions in the 1960s, particularly in the "spaghetti westerns". He appeared in Sergio Leone's A Fistful of Dollars (1964), in a very small (uncredited) cameo as a captain in the Mexican Cavalry.
From the early 1970s, Riesgo slowly left international co-productions -- his last being Bad Man's River in 1971. After that, he centered his attention in Spanish movies, with an occasional appearance in some prestigious TV series such as Estudio 1 or Curro Jiménez. During the late 1970s, he became a well-known face of the current of landismo.
Barrio Sésamo
In 1979, Riesgo was cast on Barrio Sésamo as Basilio, a street vendor who sold food off a trolley. As one of the humans on the street, Basilio interacted with the Muppet characters, Gallina Caponata and Perezgil. The show was cancelled in 1980.
He reprised his role as street vendor who sold food in the 1983-1987 period of Barrio Sésamo, but under the name of Julian,  now interacting with the new characters.
After 1987, with the end of the new period of Barrio Sésamo, Riesgo continued playing Julián in stage versions of the series, alongside Chelo Vivares (Espinete) and Juan Sánchez (Chema the baker).
Once this performance was over, Riesgo decided to retire from acting. He passed away well after his retirement.