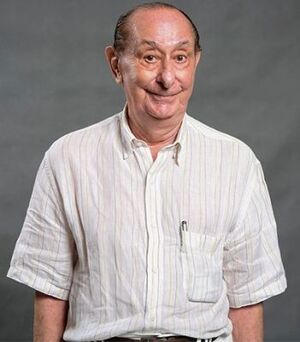 José Santa Cruz (n. 1929) is a Brazilian voice actor who dubbed Earl Sinclair (Dino da Silva Sauro) on Família Dinossauros (Dinosaurs).
Santa Cruz began on radio and in early Brazilian television, and had roles in Brazilian comedies such as the loose James Bond spoof 007 1/2 no Carnaval (1966). In dubbing, often as gruff or crusty characters, he lent his voice to Danny DeVito in many films, Bernard Lee as M in the James Bond series, Robbie Coltrane in the Harry Potter movies, J. K. Simmons in the Spider-Man trilogy, Ian McKellen in the X-Men movies, Alec Guinness in the star Wars franchise, and Philip Baker Hall in The Talented Mr. Ripley. TV roles were in a similar mold, including Michael Dorn in the Star Trek franchise, Dennis Franz on NYPD Blue, and Brian Doyle-Murray on The Middle.
Cartoon characters include Detective Harvey Bullock on Batman: The Animated Series and its spinoffs, King Randor on He-Man and the Masters of the Universe, and Sgt. Cosgrove on Freakazoid.
Dubbing credits