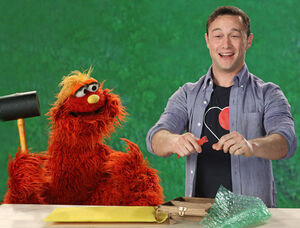 Joseph Gordon-Levitt is an actor known for his roles on 3rd Rock from the Sun and The Dark Knight Rises. He also voiced Jim Hawkins in Disney's animated film Treasure Planet, a sci-fi adaption of Robert Louis Stevenson's novel Treasure Island.
Gordon-Levitt appeared in Sesame Street's 43rd season presenting the Word of the Day—reinforce (First: Episode 4318).
Gordon-Levitt appeared in Lady Gaga & the Muppets' Holiday Spectacular.