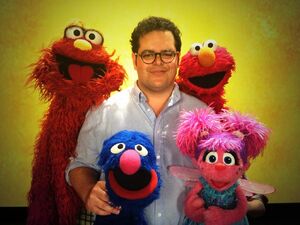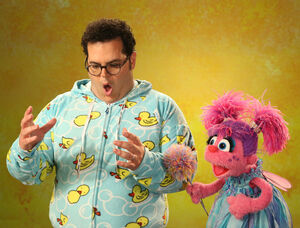 Josh Gad (b. 1981) is an American actor and singer, best known for portraying Elder Cunningham in the Broadway musical, The Book of Mormon and for voicing Olaf the Snowman in the 2013 animated Disney film Frozen.
Gad appeared on Sesame Street during Season 44, in a Word of the Day segment for Episode 4407. He later appeared in an episode the following season playing the painter "Vincent van Stop."
Gad and Billy Crystal were at SXSW to promote their television series The Comedians; Cookie Monster posed for a photo with them.
Gad appeared with the Muppets for WE Day 2017. Gad was also attached to write and executive produce Muppets Live Another Day, a planned series for Disney+.