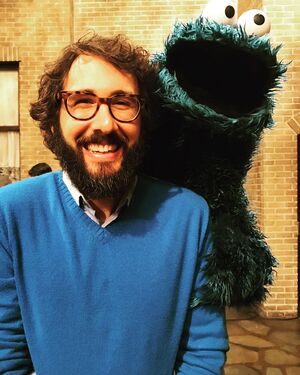 Josh Groban (b. 1981) is an American singer, songwriter, actor and producer, who rose to fame in 1998, with some help from David Foster, Andrea Bocelli and Celine Dion.
Groban appears in 2014's Muppets Most Wanted as a maximum security prisoner in the Siberian gulag (mostly heard within a prison sweatbox). He can be heard singing portions of "The Big House," "Together Again," and "I Hope I Get It." The former two songs are included on the film's soundtrack.
In 2015, Groban appeared with Lindsey Stirling and the Muppets in "Pure Imagination" on YouTube, and again as himself on The Muppets second episode.
Groban recorded a song, "Hey Friend," for the 48th season of Sesame Street. The song was taped on March 2, 2017.[1]

Sources
External links