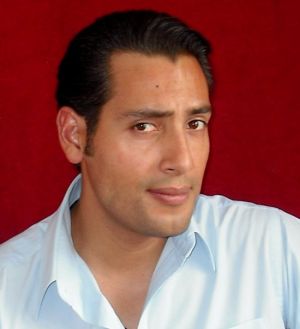 Juan Carlos Tinoco (b. 1971), also credited as Juan Carlos Tinoco Ripoll, is a Colombian-born voice actor working in Mexico. He dubbed Bobo in Los Muppets (The Muppets) and Muppets 2: Los más buscados (Muppets Most Wanted).
Tinoco's trademark is his deep voice, put to use as the primary voice of Dwayne "The Rock" Johnson, including the Fast and the Furious movies and the HBO series Ballers. He also dubbed Michael Clarke Duncan in Street Fighter: The Legend of Chun-Li, Josh Brolin as Thanos in the Marvel movies, William Hurt in The Incredible Hulk, and the Jabberwocky in Tim Burton's Alice in Wonderland. He often records narration, title inserts for DVDs and films, and is the main commercial announcer for Dodge vehicles.
In animation, he has voiced Brian on Family Guy since the fourth season, the Hulk on The Avengers: Earth's Mightiest Heroes and the Phineas and Ferb crossover, Kinpin on the 2003 Spider-Man series, Mayor Quimby on The Simpsons, Professor Jirafales for the first two seasons of the animated El Chavo, and Marshmallow in Frozen. Video game roles include Darth Vader in Star Wars: Battlefront, Deathstroke in Batman: Arkham Origins, and Dizzy Wallin in the Gears of War series.