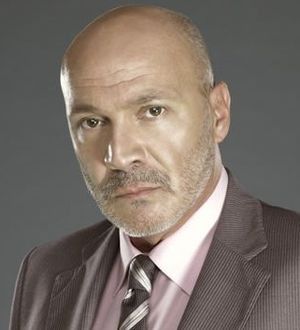 Juan Fernández, also known as Juan Fernández Mejías, is a Spanish actor and voice actor who dubbed several supporting characters (Muppets and people) in the Castilian dubs of Muppet movies, including twice as Bobo. He also dubbed Roger Ashton-Griffiths in the Creature Shop-effects films The Odyssey and Merlin.
Fernández has appeared in several films, including the Pedro Almodóvar films Talk to Her and Bad Education and the Spanish-English comedy Miguel and William (with Geraldine Chaplin). In 2015, he was a regular during the first season of the period crime drama Víctor Ros as Comisario Buendía.
Lending his deep tones to dubbing, Fernández was the Castilian Spanish voice of Alan Rickman in the Harry Potter movies and other films, Danny DeVito in LA Confidential, Dann Florek on Law & Order: SVU, and M. C. Gainey on Lost. In animation, he dubbed Pete in the Mickey Mouse shorts and later projects, Chef on South Park, Hudson on Gargoyles, Lex Luthor and Brainiac on Superman, Thrax in Osmosis Jones, and Bleeding Gums Murphy and others on The Simpsons.
Muppet/Creature Shop dub credits
External links