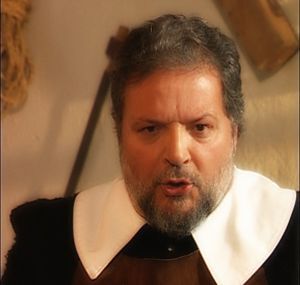 Juan Luis Rovira is a Spanish voice actor who has been involved in the Castilian Spanish dubs of several Muppet/Creature Shop projects since the 1980s. He dubbed Junior Gorg on Los Fraguel (Fraggle Rock) (original dub) and later Bobo in Los Muppets (The Muppets).
Possessing a deep voice, Rovira has often dubbed heavies, actors of imposing physique or manner, or giants. In keeping with his specialty, other Muppet credits include dubbing cameo actors such as Hulk Hogan and Steve Schirripa. For Creature Shop productions, he was heard on El Cuentacuentos (The StoryTeller) as The Thought Lion.
Rovira's other credits include dubbing Richard Moll on Night Court and in other projects, Brad Garrett on Everybody Loves Raymond, and Mitch Pileggi (as Director Skinner) on The X-Files, and for TV movies, Johnny Cash in the 1986 remake of Stagecoach and H. B. Haggerty in Curse of the Black Widow.
Muppet/Creature Shop Dub Credits
External links
Community content is available under
CC-BY-SA
unless otherwise noted.