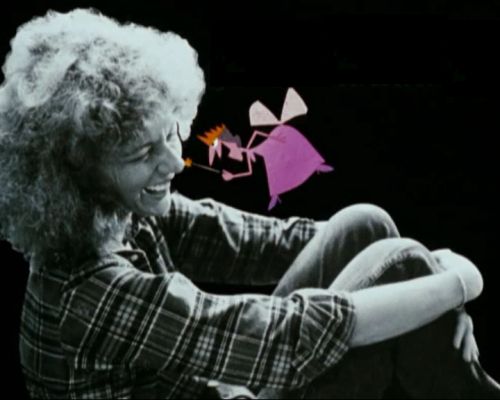 Judith Kahan (b. 1948), sometimes credited as Judith Kahan Kampmann, is an actress and writer who supplied the voice of Thelma Thumb, often using improvised dialogue, in John Korty's Sesame Street segments.
Kahan began her career in improv and was a frequent TV player in the 1970s, particularly with MTM Enterprises, as a regular on the short-lived sitcoms All's Fair and Doc, part of the repertory cast on the equally short-lived variety series Mary, and guest appearances on Lou Grant and the later shows Newhart and St. Elsewhere. For Norman Lear, she played Penny Major on Forever Fernwood (the retooled version of Mary Hartman, Mary Hartman) and guested on All in the Family.
Kahan also established herself as a TV writer, scripting comedy sketches for Mary Tyler Moore's show and later working on the cable version of SCTV, The Days and Nights of Molly Dodd, and Moonlighting. In front of the camera, she recurred in the first two seasons of the sitcom Valerie (prior to its retooling as The Hogan Family) and was a regular on the TV version of Ferris Bueller (taking over Edie McClurg's role of school receptionist Grace). Her sparse film credits include Hot Shots! and Hot Shots! Part Deux (in different bit roles), Multiplicity, and Analyze This. Her most substantial movie role, however, came as the voice of the no-nonsense Fairy Godmother in John Korty's Twice Upon a Time.
External links
Community content is available under
CC-BY-SA
unless otherwise noted.