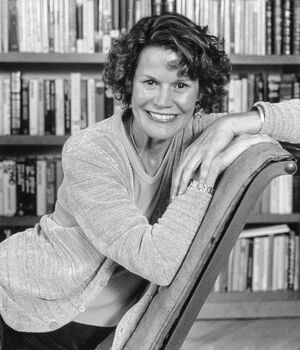 Judy Blume (b. 1938) is an author most well known for her young adult books. He novels for teenagers have covered topics including racism, menstruation, divorce, bullying, masturbation, sexuality, and family issues, garnering controversy from some — and praise from others — for the discussion of age-appropriate reading. Some of her notable works include Are You There God? It's Me, Margaret, Freckle Juice, Tales of a Fourth Grade Nothing, and the Fudge series of books.
In 1993, Blume wrote an article for the November 13 issue of TV Guide about Sesame Street's 25 anniversary, interviewing Hillary Clinton on the day she filmed a segment with Rosita and Big Bird about healthy eating.
Mentions
In Blubber, published in 1974, Tracy Wu's mother makes her a Big Bird costume for Halloween.
References