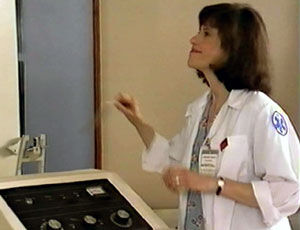 Judy Graubart (b. 1943) is a comic actress who began her career with the improv group Second City in Chicago. After appearing as a regular on the 1970 summer series Comedy Tonight (with Robert Klein and Madeline Kahn), Graubert was cast in CTW's follow-up to Sesame Street, The Electric Company. Graubart appeared as Jennifer of the Jungle, cooking hostess Julia Grown-Up, and other characters. She also joined the Sesame Street Muppets and her other Electric Company co-stars in the TV special Out to Lunch.
In 1991, she appeared as an x-ray technician in the video Sesame Street Home Video Visits the Hospital. She also appeared on Sesame Street as a saleswoman in Episode 3059 where she helped Linda buy a new hat. She also supplied the voice of a little girl in the 1989 Bruce Cayard animated segment "My Skin."
Outside of The Electric Company and Second City, Graubert's opportunities have been more limited. Highlights include the voice of Stella Starlet in the x-rated Tarzan spoof Shame of the Jungle (aka Tarzoon), and co-starring roles in Simon (with Alan Arkin and Madeline Kahn), Author! Author! (with Dyan Cannon), and Judy Berlin (with Kahn and Anne Meara). Her husband is character actor Bob Dishy.