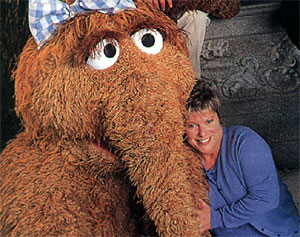 Judy Sladky is a former champion ice skater/dancer who has played the occasional role of little Alice Snuffleupagus on Sesame Street (and related specials and TV appearances) since the character's debut in 1988.[1] She is the sole performer of Alice, operating the eyes and mouth within the suit, and also providing the voice. She also performed and skated as Ernie in Holiday on Ice shows.[2] Her work in the shows extended to performing the characters for routines that aired on the show.[3]
Born in Indiana as Judy Schwomeyer, she established herself as a professional ice performer, partnered with James Sladky (whom she subsequently married).
Her major costumed character role is portraying Snoopy in various ice skating shows and appearances, dating back to the 1978 TV special Snoopy's Musical on Ice. She appeared as Snoopy in the 1996 movie Jingle All the Way, in a parade scene, and has made personal appearances, out of costume, at various Peanuts/Charles Schulz-related events. Other costumed character roles have included portrayals of the Campbell Soup Kids.
Credits
See also
Sources
↑ Hellman, Peter. "Street Smart." New York Magazine. November 23, 1987.
↑ Documents provided by trusted source
Community content is available under
CC-BY-SA
unless otherwise noted.