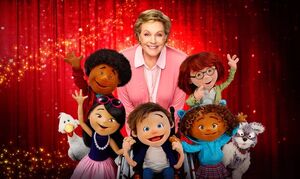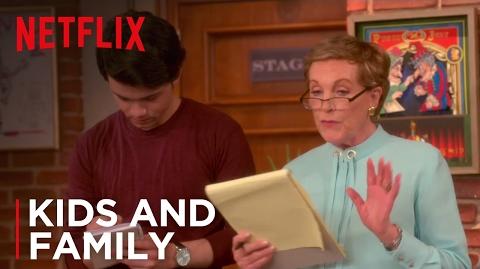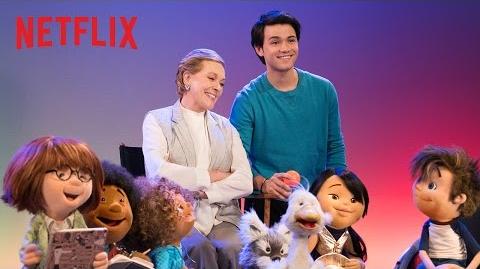 Julie's Greenroom is a Netflix Original Series produced by The Jim Henson Company and starring Julie Andrews alongside original puppet characters created by the Henson Creature Shop. Netflix ordered 13 half-hour episodes that were released on March 17, 2017.
The series began filming in New York in May 2016 and was directed by Joey Mazzarino. In addition to Andrews' starring role, the show includes such guest stars as Alec Baldwin, Sara Bareilles, Joshua Bell, Tituss Burgess, Carol Burnett, Chris Colfer, Robert Fairchild, Josh Groban, David Hyde Pierce, Bill Irwin, Ellie Kemper, Idina Menzel, Tiler Peck, and Stomp.
According to Netflix's announcement:
Puppeteers on the series include Jennifer Barnhart, Tyler Bunch, Frankie Cordero, Stephanie D'Abruzzo, Dorien Davies, John Kennedy, Noel MacNeal, Paul McGinnis, Kenny Stevenson, and John Tartaglia.
Andrews created the series with her daughter, Emma Walton Hamilton, and Judy Rothman-Rofe. Andrews, Hamilton, and Lisa Henson serve as executive producers with Steve Sauer and Halle Stanford. Bill Sherman serves as the series' composer.
A soundtrack album of songs from the show was given a digital release on April 14, 2017, and released on CD on May 5.
Characters
Episodes
Image
Episode Description

Episode 101: The Show Must Go On
Ms. Julie and her devoted assistant Gus welcome a new group of young performers to the Green Room Workshop. When a disaster ruins their plans to put on a show, they find a way to persevere with the help of Idina Menzel and the Broadway musical "Wicked."

Episode 102: The Write Stuff!
The Greenies try to write an original show with the help of Chris Colfer, but first they need to inspire some confidence in their friend Spike.

Episode 103: Singin' in the Room
Josh Groban teaches the Greenies all about singing as they plan a birthday surprise for Ms. Julie.

Episode 104: Hello from the Ogre Side
Alec Baldwin gives the Greenies their first lesson in acting while Peri is upset that she's been cast as the ogre in their upcoming show.

Episode 105: Barre None
Robbie Fairchild and Tiler Peck convince Hank and Spike that ballet is for everyone.

Episode 106: Write... Write a Song
Sara Bareilles teaches the Greenies how to write music for their show while Hank and Spike discover that it's not so easy for two people to write a song together.

Episode 107: Morning at the Improv
Rehearsals aren't going well for the Greenies' upcoming show until Ellie Kemper teaches them how to listen and work together with the help of improv.

Episode 108: The Show Must Go On
Joshua Bell teaches the Greenies the importance of practice as they learn how to perform music together.

Episode 109: Send in the WOW
Riley doesn't believe she can be much of a jester until Bill Irwin shows the Greenies how to find their inner clown with the help of Cirque du Soleil.

Episode 110: Rhythm Is Gonna Get You
When the Greenies' instruments get sent to the wrong address, the percussion group STOMP shows them how they can play with every day objects to create music.

Episode 111: Costumer Service
Tituss Burgess shows the Greenies how clothes can make the character when he helps them design the costumes for their upcoming show.

Episode 112: The Mess Rehearsal
Ms. Julie and David Hyde Pierce teach the Greenies to have a little faith in themselves after they stumble through a rough dress rehearsal.

Episode 113: Mash-Up: The Musical
It's show time as the Greenies unveil their brand-new musical "Mash-Up," and they will be performing for none other than Edna Brightful (Carol Burnett), a wealthy patron who holds the future of the Green Room Workshop in her hands.
Cast and Crew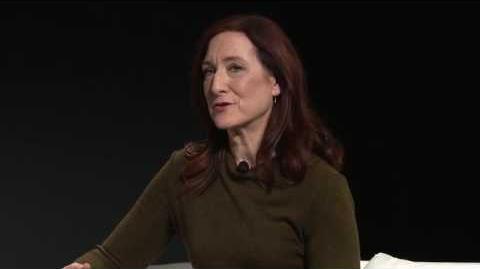 Created by: Julie Andrews, Emma Walton Hamilton, and Judy Rothman Rofé
Executive producers: Julie Andrews, Emma Walton Hamilton, Steve Sauer, Lisa Henson, Halle Stanford, Dominique Bazay, and Andy Yeatman
Co-producer: Joey Mazzarino
Music written by: Ryan Shore
Music director: Bill Sherman
Vocal music director: Paul Rudolph
Producer: Thomas Keniston
Executive Consultant: Martin Baker
Director: Joey Mazzarino
Writers: Julie Andrews, Emma Walton Hamilton, Alex Rockwell, Judy Rothman Rofé, Joey Mazzarino, and Joseph Purdy
Composers: Eli Bolin, Shaina Taub
Cast
Puppeteers
Guests
Tituss Burgess
Robert Fairchild
Characters Designed by: Elanna Allen
Original Concept Designs: Alexander Dodge
Creative Director: Jason Weber
Production Supervisor: Joseph Roddy
Lead Puppet Wrangler: Mary Brehmer
Puppet Builders/Designers: Erin Slattery Black, Mary Brehmer, Victoria Ellis, Soja Gingervich, Elizabeth Hara, Jim Kroupa, Rollin Krewson, Nicholas Mahon, Kari Love, Anney Ozar, Constance Peterson, Kate Rusek, Sierra Schoening, and David Valentine
Notes
When introducing Bill Irwin in the episode "Send in the WOW," Julie makes reference to his role as Mr. Noodle on Sesame Street.
All of the show's principle puppeteers make on-screen cameos in the season 1 finale appearing as family and friends of the "greenies" attending at the debut performance of "Mash-up: The Musical".
Sources
External links