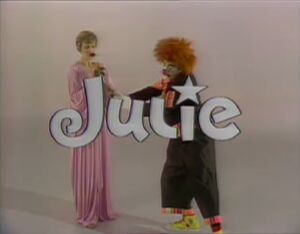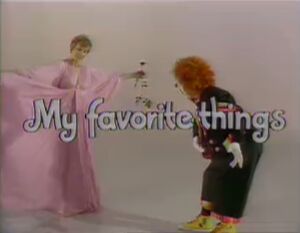 Julie: My Favorite Things was a Julie Andrews television special which aired on April 18, 1975 on ABC. The Muppets were her guests, along with Peter Sellers (and the Pink Panther, played by a dancer). The special was shot in England at ATV studios, and several of the crew members subsequently worked on The Muppet Show.
Muppet segments
Julie Andrews sings a version of "Swinging on a Star" with the Gawky Birds and the Clodhoppers (identified here as "the Klunks"). The lyrics are heavily reworked.
The Electric Mayhem then performs a rendition of Suzi Quatro's "Your Mamma Won't Like Me." Julie joins them towards the end of the song, dressed as a hippie and playing a tambourine. The hipster band stops playing and gives Julie the impression that she's a square.
Dejected, she walks off and joins Kermit, and sings him the song she would later sing again in her episode of The Muppet Show, "When You Were a Tadpole and I Was a Fish."
At the very end of the special, Zoot asks Julie to sing "Melancholy Baby."
Notes
Muppet Performers
Credits
See also