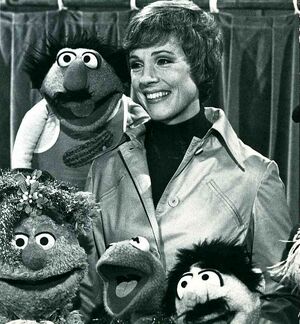 Julie Andrews (b. 1935) is a popular British actress and singer. Her best-known films are the musicals Mary Poppins (1964), The Sound of Music (1965) and Victor/Victoria (1982), and her Broadway shows Camelot, My Fair Lady, and The Boyfriend.
Andrews and the Muppets have a long history together. They have appeared together in many specials.
Andrews also performed the vocal track for Polynesia, an animatronic character built by Jim Henson's Creature Shop for the stage show version of Dr. Dolittle. It was the first time in forty years that Andrews had been heard on the London stage, albeit in voice only.
She won the Academy Award in 1965 for Best Actress for Mary Poppins, and earned a star on The Hollywood Walk of Fame in 1979. She was named a Dame by Queen Elizabeth II in the Millenium New Year's Honours List on December 31, 1999, and was a recipient of the Kennedy Center Honors in 2001.
She is good friends with Carol Burnett, another Muppet Show guest.
Miss Piggy spoofed Andrews in the 1998 calendar Muppet Movie Parodies: Plump Fiction, in "The Sow of Music".
She stars in The Jim Henson Company series Julie's Greenroom which was released on Netflix in early 2017.
External links