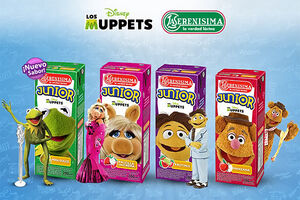 Junior is a kids brand of flavored drinks made from skim milk produced by the Argentine dairy company, La Serenísima.
As a promotional tie-in with the Latin American release of The Muppets in 2012, the faces of Muppet characters Kermit the Frog, Miss Piggy, Walter, and Fozzie Bear graced the drinks' packaging.
Similar promotional campaigns have included other Disney properties such as Pixar's Toy Story 3 and Cars 2, and Marvel's The Avengers.