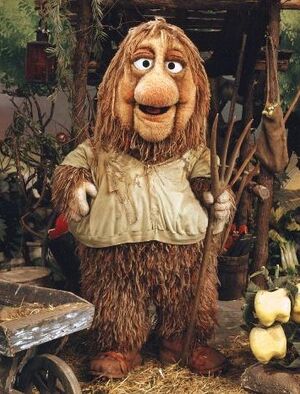 Junior Gorg is the dim-witted but good-natured heir to the Gorg kingdom on Fraggle Rock.
Junior is the son of Pa Gorg and Ma Gorg, the self-proclaimed queen and king of the Universe. As prince, he is given orders for a number of chores around the castle, including the maintenance of the royal radish garden. He sets traps in the garden outside the castle, for the purpose of capturing the Fraggles who sneak onto the Gorg's property to harvest radishes. His favorite dish is watermelon en croute. [1]
Junior is proud of his Gorg heritage. He is always eager to please his parents, even when he doesn't understand the orders they give him.
In "Junior Sells the Farm", Junior says that he is "only 473." Since the episode aired in 1984, assuming a literal time-frame, this would place his birth date in the year 1511.
Junior Gorg's best friend is an enormous radish that he calls Geraldine. [2] This was apparently his only friend until "Bored Stiff" when he made friends with Gobo.
Behind the Scenes
Junior is performed by two puppeteers: one person in the Gorg costume, and another performing the voice and moving the character's eyes and mouth by remote control.
Appearances
Sources
Community content is available under
CC-BY-SA
unless otherwise noted.