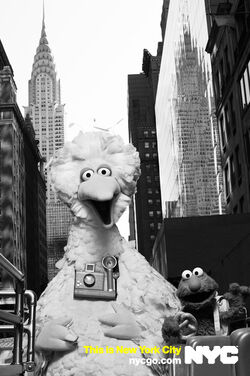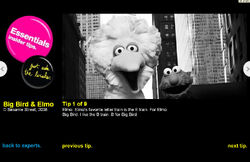 Big Bird and Elmo are among the New York City celebrities featured in the third phase of the Just Ask the Locals taxi cab tourist informational campaign, launched in 2008. The video includes footage from a skating scene on Sesame Street and Episode 3981 ("Elmo Visits the Firehouse").
Myrna Suarez is listed on the site as the photographer for the print ad; the characters are on a CitySights NY bus.
About the campaign
According to the press release:
"

The campaign, which features local New York City celebrities and experts offering insider tips and suggestions on what to see and do around the five boroughs, has expanded its online presence to include real-time mobile events updates and enhanced content... The campaign will run on bus shelters, street pole banners, taxi monitors, airport postings and other media across the five boroughs and is supported by American Express... The new and enhanced Just Ask The Locals content allows visitors and New Yorkers to see more than 200 expert and celebrity tips along with 30 behind-the-scenes videos across an array of topics including dining, shopping, arts and entertainment, nightlife and essentials.

"
Other participants included Cynthia Nixon, Wynton Marsalis, Itzhak Perlman, Kevin Bacon, Ivanka Trump, Sean Combs, Alan Cumming, Tim Gunn, Debbie Harry, Matt Lauer, and various others.
Big Bird and Elmo's tips
B: I like the B train. B for Big Bird.
E: Elmo's favorite letter train is the E train. For Elmo.
E: Elmo loves taking taxis with his mommy and daddy, because taxi drivers are so cool. You learn a lot about New York City just talking to the taxi driver.

B: I like to find a taxi with a sunroof so I can stick my head up through, 'cause I'm so tall.
E: Elmo loves SoHo. Sometimes Elmo's Mom and daddy go down to SoHo.
B: I like the Upper West Side. I've got a lot of friends there.
E: The firemen and policemen are very good. Very good at keeping you safe. They're very important and we love them very much.
B: Yes. They're our heroes.
B: We go ice skating in Central Park.
B: I like to go to Central Park. Lots of people feed the pigeons and squirrels, and I like what they like! Yum!
B: I like that natural history museum. I specially like seeing the dinosaurs because they're my distant ancestors.
B: I like to take the A train.
B: I went to the farmers market in Union Square. They have all of these fresh vegetables and fruit. It comes down from the country and they sell it here.
E: Elmo's favorite New York City street is Sesame Street, of course! Second favorite would be Times Square.
E: When Elmo wants to laugh a lot and have fun, Elmo rides his tricycle through Central Park and watches as Elmo's dad tries to keep up with him.
See also
External links
Community content is available under
CC-BY-SA
unless otherwise noted.