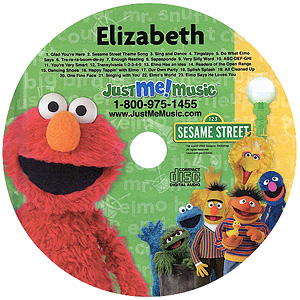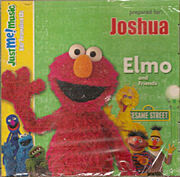 Just Me! Music is a company that specializes in producing compact discs that appear to be tailor-made for individuals referenced by name. Each CD contains songs customized with the first name of a child to whom the character appears to be speaking and singing. Discs are sold at shopping mall display units and automated kiosks, as well as by phone and the company's website.
In 2007, the company issued Elmo and Friends, or "Sing Along with Elmo and Friends", featuring newly recorded material by Kevin Clash as well as songs from Sesame Street's archive.
Track listing
Glad You're Here
Sing and Dance
Tingalayo
Do What Elmo Says
Tra-ra-ra-boom-de-ay
Enough Resting
Very Silly Word
You're Very Smart
Elmo Has an Idea
Dancing Shoes
Our Own Party
All Cleaned Up
Singing with You
Elmo Says He Loves You
External links
Community content is available under
CC-BY-SA
unless otherwise noted.