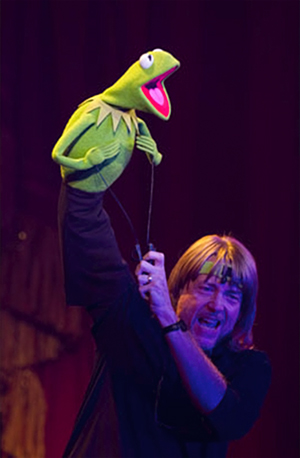 Just for Laughs is a Canadian comedy festival which is held every summer in Montreal.
On July 26th, 2012, the Muppets performed two live shows at the Just for Laughs festival. An hour-long television special of the show, entitled The Muppets All-Star Comedy Gala, was televised on December 24, 2012 on the Comedy Network in Canada.[1] The program also aired in Australia, bearing the title The Muppets in Montreal and featuring new framing material with comedian Paul McDermott.[2] The special later streamed on Hulu from March 20, 2014.
A centerpiece of the special featured the song "Canada Is" performed by the Muppets (used again in the 2017 special). The Muppets hosted performances by comedians John Heffron, Adam Hills, Tommy Johnagin, and Caroline Rhea (show 1) and Danny Bhoy, Mike Birbiglia, Jim Breuer, Ryan Hamilton and Steve Patterson (show 2).
Kermit was quoted in a press release:
"

Sharing the stage with the greatest comics in the world in front of the greatest comedy fans in the world is an incredible honour for The Muppets, and the highlight of Fozzie Bear's life. In fact, Fozzie is so overwhelmed, he may not be able to stand up to do his stand-up.[3]

"
The Show
| Image | Description |
| --- | --- |
| | Kermit comes out from the behind the curtain to introduce the show leading into a performance of "The Muppet Show Theme" (with slightly altered lyrics reflecting the Canadian setting) by Kermit, Fozzie, Rowlf, Scooter, Pepe, Floyd, Gonzo, Lew Zealand, Statler and Waldorf. |
| | Kermit welcomes the audience and introduces the opening number. Beauregard, Scooter, Fozzie, Gonzo, and Pepe sing "Canada Is" with facts about Canada collected from typical Americans by Sam Eagle. |
| | Kermit introduces Cirque du Soleil, but Scooter informs him that Cirque and Soleil have canceled, leaving them with just Du (Sweetums). Gonzo offers his unique chicken act - Cirque du Poulet- in their place. |
| | John Heffron performs stand-up (show 1). Danny Bhoy performs stand-up (show 2). |
| | The Swedish Chef has a heart attack after eating his own poutine. Lew Zealand attempts to defibrillate him. |
| | Adam Hills performs stand-up about the Swedish Chef (show 1). Mike Birbiglia performs stand up (show 2). |
| | Floyd has Animal deliver a punchline to Kermit. |
| | Tommy Johnagin performs stand-up (show 1). Jim Breuer performs stand-up (show 2). |
| | Miss Piggy is carried in on a litter by a group of mounties. Kermit and Miss Piggy sing "Muskrat Love." |
| | Caroline Rhea performs stand-up (show 1). Ryan Hamilton performs stand-up (show 2). |
| | Walter introduces Fozzie Bear's comedy act; Fozzie performs a stand-up comedy routine only to be heckled by Statler and Waldorf. |
| | Rowlf sings "I Never Harmed an Onion." |
| | Dr. Bunsen Honeydew and Beaker present the latest invention from Muppet Labs - the "French-Canadian Culture Immerser." Beaker steps into the machine, and Bunsen enters his name, nationality, and age; but Bunsen forgets to enter Beaker's weight, and out steps a seven-foot tall Beaker, played by Youppi, the mascot of hockey's Montréal Canadiens. |
| | Rowlf performs impressions of Donald Trump (show 1). Steve Patterson performs stand-up (show 2). |
| | The Great Gonzo debuts Cirque du Poulet - an act that attempts to make chickens fly (using rocket technology and gun powder); however Crazy Harry gets carried away and blows the chickens up. |
| | Kermit and Miss Piggy sing "Rainbow Connection" with Piggy trying to sing in French. They are later joined by Floyd, Pepe, Gonzo, Scooter, Walter, Fozzie, Animal and two chickens. |
| | The cast comes out and takes a bow as the closing theme plays. |
Gallery
Videos
Cast
Muppets:
Comedians:
Ryan Hamilton, Jim Breuer, Mike Birbiglia, John Heffron, Danny Bhoy, Adam Hills, Tommy Johnagin, Tom Papa, Caroline Rhea, Steve Patterson, and Pete Zedlacher
Credits
Muppet Performers:
See also
Sources
↑

Equities.com - From Montréal with Laughs: New Original Series JUST FOR LAUGHS: ALL ACCESS Premieres January 7 on The Comedy Network, December 6, 2012

↑

Bell Media - Comedy, June 28, 2012
External links