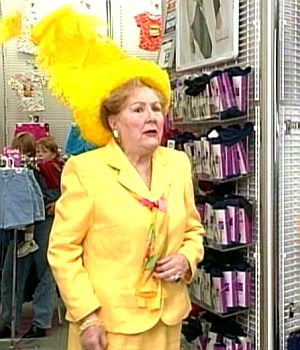 Justine Johnston (1921-2006) was a character actress on Broadway and occasionally in film and television. Often cast as snobbish dowagers or matrons, she appeared in the 1998 Sesame Street video Big Bird Gets Lost as a prim customer. Attired in an ornate feathered hat and yellow suit, a crouching Johnston is mistaken by Maria for Big Bird, prompting an indignant "I beg your pardon!" Faced with this tower of respectability and dignity, Maria tries to explain the situation: "I thought your hat was my friend's behind." Slowly growing more aghast, the customer repeats "Your friend's... behind?" and with raised eyebrows and a distressed "Ohh!," beats a shocked retreat, in the grand tradition of Marx Brothers movie foil Margaret Dumont.
Johnston made her Broadway debut late in life, originating the role of legendary but aging soprano Heidi Schiller in Sondheim's Follies in 1971. Other Broadway shows included Me and My Girl, Irene, Molly, Angel, Sondheim: A Musical Tribute, and I Remember Mama. In film, she played Aunt Pearl Bach, disapproving of Dudley Moore in Arthur, and most of her other screen and TV roles were in the same mold: well-heeled matrons with such typical names as Mrs. Armstrong (the Seinfeld episode "The Letter"), Hermione Rockwell (the sitcom Mr. Rhodes), Mrs. Comstock (the TV movie Orphan Train), and Mrs. Puddingforth (The Duke, with Paxton Whitehead). She even typified the upper-class American dowager outside of its native habitat, appearing in the 1998 French film Que la lumière soit.
However, most of Johnston's career was spent on the road with such touring musicals as Milk and Honey, The Gazebo, and in particular, A Funny Thing Happened on the Way to the Forum, playing the austere Roman matriarch Domina off and on for over thirty years. In 1990, several years prior to her Sesame video appearance, she appeared in a tour of Lend Me a Tenor. Again cast to type as a culture-loving dowager and clad in a sparkling evening gown, Johnston was described by one critic as looking "eerily like Miss Piggy competing in a Margaret Dumont look-alike contest."[1]
Sources
↑ Rosenfeld, Megan. "Tenor: Lend It Some Laughs." The Washington Post. November 2, 1990.
External links