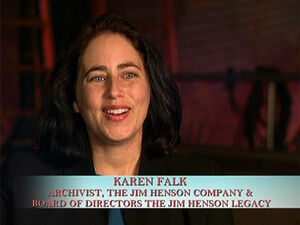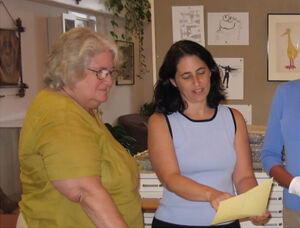 Karen Falk is an historian who serves as the head archivist for The Jim Henson Company.
In the late 1990s to early 2000s, she was the primary contributor to the Ask Henson.com column on the company's website, answering a multitude of questions about the history of Jim Henson and the Muppets.
Falk has appeared as a discussion panelist at a number of events, including those held in October of 2003 at The Museum of Television and Radio and in November of 2004 at the Brooklyn Academy of Music.
She has also contributed to a number of non-fiction books, having written an introduction to Jim Henson's Designs and Doodles, as well as a special section on Jim Henson for the liner notes of Manhattan Research, Inc..
She's appeared in several behind-the-scenes featurettes on home video releases including Fraggle Rock Season One interviews and A Company of Players on The Muppet Show Season Three. She's also been interviewed for news stories, including a feature on Jim Henson's Red Book.
Falk has served as a coordinator for a number of Jim Henson exhibits and holds a seat on the board of directors of The Jim Henson Legacy.
In 2012, Falk compiled Imagination Illustrated: The Jim Henson Journal, assembling entries from "Jim Henson's Red Book" with explanatory text, photos and production material from the Archives. The 192-page book was published by Chronicle Books.
External links