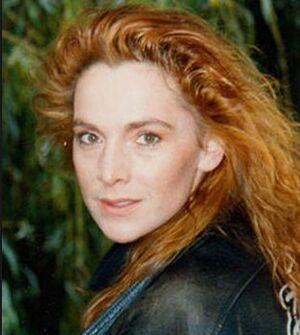 Katharina Lopinski (b. 1945) is a German voice actress who dubbed Mrs. Bluveridge in Muppets Die Schatzinsel (Muppet Treasure Island) and the pigeon wife in Die Muppets: Briefe an den Weihnachtsmann (A Muppets Christmas: Letters to Santa). She also dubbed Badsister 1 ("Sapsorrow") in Jim Hensons beste Geschichten (The StoryTeller).
Lopinski is the primary German voice of Julie Walters, from the Harry Potter movies onward. She dubbed Julianne Moore in five films, as well as Kathy Najimy in Hocus Pocus and the Sister Act movies, Lindsay Duncan in Birdman, Sally Kellerman in Payback, and Octavia Spencer in Bad Santa.
Cartoon roles include Lois Griffin on Family Guy, Sheila Broflovski on South Park, Aunt Fanny in Robots, Shari Bobbins and other guests on The Simpsons, Jane Jetson on The Jetsons, and Anastasia Hardy on Spider-Man. On-camera, she has appeared on the German TV series Hamburg Transit and Tatort.
External links