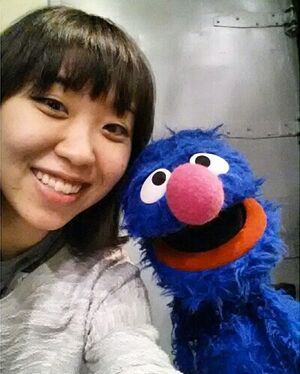 Kathleen Kim is a puppeteer and Muppet performer on Sesame Street who plays Elena (mother of Julia) and Ji-Young.
Kim attended a puppeteer workshop for Sesame Workshop in 2014[1] and was hired in 2015 as an assistant puppeteer for Sesame Street starting on season 46.[1] Kim performed the yawning cat seen in the first shot of Episode 4810. She received her first on-screen credit for the series in Season 49.
In addition to performing, Kim is also credited as a consulting producer for the 2021 special, See Us Coming Together.
Kim's other puppetry credits include Martin P. Robinson's musical play All Hallow's Eve, the Fred Rogers biopic A Beautiful Day in the Neighborhood, and as Toeknee the imaginary friend on Awkwafina is Nora from Queens ("Nora Meets Brenda").
Credits
Sources