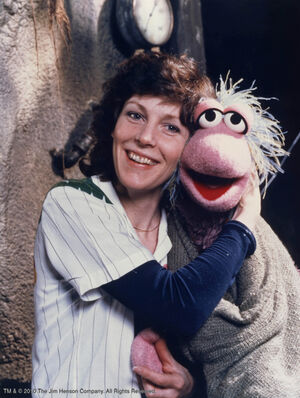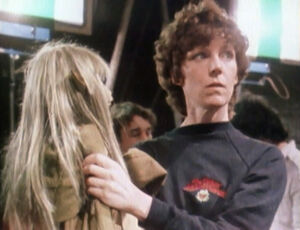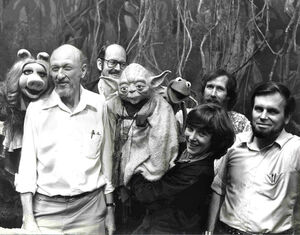 Kathryn Mullen (b. ca. 1945) joined the Muppets in 1978, starting with The Muppet Movie,[1] and became the third full-time female puppeteer on The Muppet Show (after Eren Ozker and Louise Gold). She had originally aspired to become an actress and did not join the Puppeteers of America until after a visit to the Muppet Workshop.[1]
Mullen started out with mostly episodic and background characters (notably, Gaffer the cat), as well as assisting on the Muppet feature films. She advanced to a lead puppeteer on The Dark Crystal (operating the heroine Kira) and was one of the core regulars on Fraggle Rock, as Mokey Fraggle and Cotterpin Doozer, among others. She continued to work with the Muppets on a more sporadic basis in the late 1980s and 1990s on The Wubbulous World of Dr. Seuss (as a first season regular, notably playing Morton the Elephant Bird, and as a second season director).
One of the creators and performers of Between the Lions, Mullen's other non-Muppet credits included assisting Frank Oz with Yoda in The Empire Strikes Back and the series Allegra's Window where she played the title character. In 2004, Mullen and husband Michael Frith worked with No Strings International to create and perform an educational puppet show for children in Afghanistan, which eventually evolved into The Flying Tent.
Muppet/Henson credits
for a complete character gallery, see Kathryn Mullen characters
Puppeteer
Writing
Directing
Miscellaneous
See also
Sources
External links