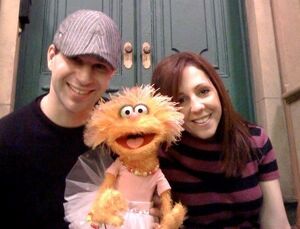 Kathryn Raio-Rende is a composer who was been working on Sesame Street since 2008, her first season being Season 40. She typically writes songs with her husband and fellow composer, JP Rende.
She has also written songs for some Sesame products, including Let's Rock Elmo and Elmo's Tickle Hands, as well as a song by Rosita and Elmo in a PSA for Flu.gov. (YouTube)
Raio also provided background vocals for the song "Puppet Man" for the documentary, Being Elmo: A Puppeteer's Journey and "Give Your Heart a Little Time" during the credits of When Families Grieve.
Song credits