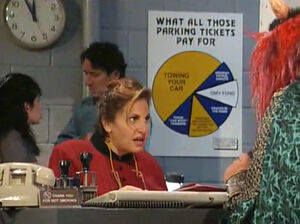 Kathy Najimy (b. 1957) is a comic actress best known for her work in the Sister Act movies with Whoopi Goldberg, the sitcom Veronica's Closet, and the animated series King of the Hill.
Najimy played Elmo's stepmother in the 1999 TV special CinderElmo.
She also made a cameo appearance on Muppets Tonight in "The Gary Cahuenga Episode". Najimy played "Estelle, God of Hunger," an employee at the Department of Motor Vehicles in a "Thor, God of Thunder" sketch.
In 2006, Najimy appeared as a celebrity guest on the pilot of the Henson Company puppet talk show Late Night Buffet with Augie and Del.
External links