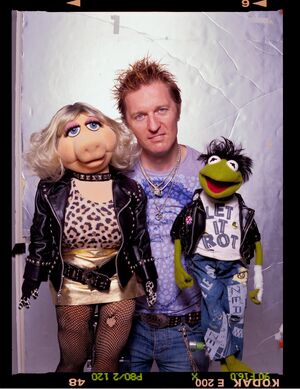 Keanan Duffty (b. 1964) is a British fashion designer and musician based in New York City.
Duffty designed outfits inspired by the film Sid and Nancy for Miss Piggy and Kermit the Frog, which were planned to appear in Zink Magazine's 2005 Holiday issue. However, the photo by photographer Mike Ruiz did not make the cut, and the designer eventually posted a copy with himself in the shot on his blog in 2011.
Duffty's clothes have a celebrity following that includes David Bowie, Mick Jagger, Jimmy Fallon, The Smashing Pumpkins, and Sarah Jessica Parker. He once designed a space suit for Martha Stewart.
His clothes have been featured on prominent TV shows including American Idol, Queer Eye for the Straight Guy and several music videos, including those of his rock band Slinky Vagabond, of which Duffty is the lead singer.
External links
Community content is available under
CC-BY-SA
unless otherwise noted.