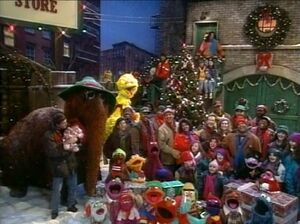 "Keep Christmas With You (All Through the Year)" is a song expressing the importance of keeping the Christmas feeling, a kind of warmth and goodwill, with oneself every day.
The song debuted on the 1975 Sesame Street album Merry Christmas from Sesame Street, and was used twice in the 1978 special Christmas Eve on Sesame Street; the first time was a sing-along with sign language by Bob, Linda, and the kids, and a reprise near the end of the special with lyrics on-screen.
It was also used for the closing number in the 1996 special Elmo Saves Christmas, although the opening verse is left out. It is also sung in the SeaWorld stage show "A Sesame Street Christmas."
For live venues, the song was sung by Bob on the show's float during the 1980 and 1981 Macy's Thanksgiving Day Parade. It was also sung by Abby Cadabby, Rosita, and Katie Bastian of the Mormon Tabernacle Choir in their 2014 Christmas concert and inspired the title for the concert's home video and album release.
Releases
Audio
Video
Publications