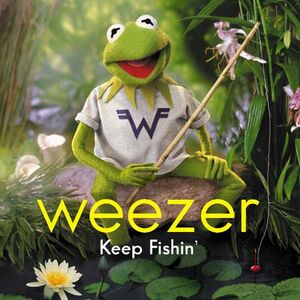 In 2002, the Muppets teamed up with Weezer in their Keep Fishin' music video from their album Maladroit. Directed by Marcos Siega, the video featured Weezer as a guest on the set of The Muppet Show.
In classic Muppet tradition, there are problems backstage, as Miss Piggy has tied up the drummer, Patrick Wilson. Forced to go onstage without him, Animal fills in where the band is also joined by Kermit the Frog, Fozzie Bear, Gonzo, Pepe the King Prawn, Rowlf the Dog, The Swedish Chef, Dr. Bunsen Honeydew, Beaker, and some chickens and penguins.
After the song, Waldorf comments "Hey, they aren't half bad," to which Statler adds "Nope, they're all bad!"
The music video was included on The Muppet Show: Season Two boxset. It also appears on Weezer – Video Capture Device: Treasures from the Vault 1991–2002.
A half-hour making of special, Weezer and the Muppets Go Fishin', aired on MTV2.