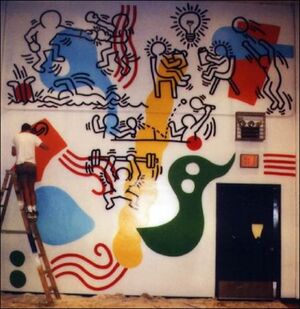 Keith Haring (1958-1990) was a pre-eminent artist and social activist whose work responded to the New York City street culture of the 1980s. His work was adapted into a series of seven animated segments for Sesame Street produced by Bill Davis.
Upon moving to New York City in the late-1970s, there he was greatly inspired by the graffiti art, and additionally studied at the School of Visual Arts. Many of his works as a pop artist show homoerotic themes.
The Keith Haring Foundation, established in 1989, continues Keith's legacy of giving to children's organizations.
A Haring mural from the interior of the Milliken Clubhouse was featured in a Sesame Street segment from Season 23 about the word EXIT. (First: Episode 3006)
Keith Haring died in 1990 of an HIV-related infection.

Sesame Street segments
References
External links