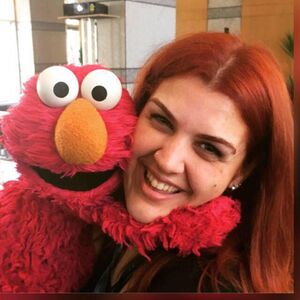 Kelly Guidotti is a Brazilian puppeteer who performs and voices Elmo on Sésamo (the Brazilian co-production of Sesame Street).
She started performing the character in 2016. She also dubs the voice of Elmo in the series: "Elmo's World", "Furchester Hotel", "Elmo's Musical" and "Monstruos en Red".
Kelly's non-Henson puppet credits include Geisinha on Brazilian TV show Tá Certo, chicken Lilica, cow Mimosa and duck Patavina on the TV Show Cocoricó. She has recorded several TV commercials with puppets.