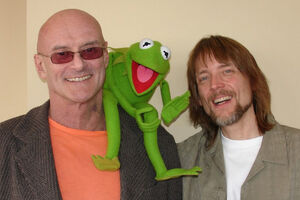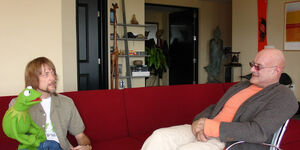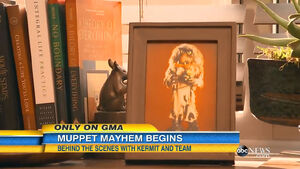 Ken Wilber (b. 1949) is an American author who has written about mysticism, philosophy, ecology, and developmental psychology. His work formulates what he calls Integral Theory. In 1998, he founded the Integral Institute, for teaching and applications of Integral theory.
The 2012 What Next conference, which included a special 3-hour tribute to Wilber on December 31, 2012, featured a pre-recorded video message to Wilber from Kermit the Frog. In the video Kermit expresses his admiration, and gratitude to Wilber.
Muppeteer Steve Whitmire spoke of Wilber in a 2008 interview with Muppet fansite Tough Pigs:
"

There's an author named Ken Wilber who most people haven't heard of, but he's the most translated author in the world. He's an amazing guy, he's just a thinker. And for the last few years, he's written on what he calls "integral theory." It's the idea that everyone is right on some level, whether it's politics, math, science, the world at large, puppets, showbiz, being a lawyer, whatever. Everybody brings a piece of the puzzle that makes the world up to the same table. And it's a matter of choosing those things and integrating all of that together, which is a huge part of what's happened to Disney in the last five years. And I've been reading his stuff for maybe 8-10 years, and I met him a couple years ago, and he's a terrific guy. And his stuff is extremely academic to wade through. But yet, it's a pretty simple idea. It's the idea that the more you can integrate things together in your life, the better chance you have at getting through your life. And he calls himself a mapmaker. And he literally has taken every discipline in the world, and I know it sounds like an exaggeration, but he's brought all that into one place, and he's integrated it together in his books. It's not conservative, it's not liberal, it's every point of view. And it goes all the way from the lowest levels of everything up to these spiritual places. It fits the Muppets perfectly. And I can look at the characters that we've created, and that Jim created, and they all fall under these different levels of development. It's not something any corporation will look at and say, "We should look at that map," but for me, and from the Muppet point of view, I use it every day.[1]

"
When asked where
Kermit
and
Rizzo
fall on that level of development, Whitmire responded:
"

Well, now we're really getting complicated. Rizzo is very egocentric, in that he is very much about himself. There's all these levels of development: there's egocentric, ethnocentric, world-centric. As people develop through their lives, they go from being totally focused on themselves to being focused on their immediate family or group to being focused on the entire world, where they slowly accept that we're all a part of this big machine, and beyond, whatever that might be. So Kermit's a little bit by the world-centric and above level, while Rizzo is much more egocentric. It's a great dynamic to play for these two guys.[1]

"
References
Sources
↑ 1.0 1.1 My Week with Steve: Day 4. toughpigs.com. October 15, 2008.
See also
External links
Community content is available under
CC-BY-SA
unless otherwise noted.