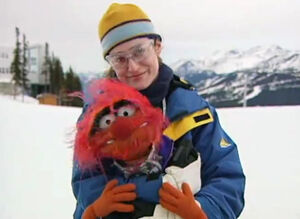 Kennedy is the stage name of Lisa Kennedy Montgomery (b. 1972), a television personality who rose to fame as a veejay for MTV in the 1990s. She has since gone on to write a memoir and and has hosted a number of shows including the game show Friend or Foe? and an eponymously titled show on FOX Business Network.
In 1998, Kennedy appeared in a number of promos for the Winter Olympics with Animal, the official snowboarding mascot for the Games. They also featured together in a segment explaining how athletes stary on their equipment without falling off, by stapling Animal's feet to the board.
Community content is available under
CC-BY-SA
unless otherwise noted.