The Kennedy Center Honors have been awarded annually since 1978 in Washington, D.C. for lifetime achievements in the performing arts.
2011
Yo-Yo Ma was among the recipients in 2011, along with Barbara Cook, Meryl Streep, Neil Diamond, and Sonny Rollins. A video montage honoring Ma included a brief clip of his appearance on Sesame Street. (YouTube) Afterwards, Elmo introduced a musical tribute to Ma performed by friends and collaborators, with John Williams conducting. They then performed "Here Comes the Sun," with James Taylor. During which, Elmo could also be seen singing along with a children's choir.
The presentation aired on CBS on December 27, 2011, and was filmed December 4th.
2015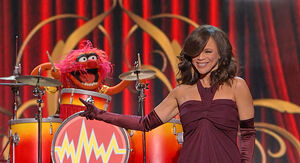 Rita Moreno was an honoree for the 2015 ceremony. Gina Rodriguez narrated a clip retrospective on Moreno's life and career, which included excerpts of her guest appearance on The Muppet Show, and her role on The Electric Company. After a commercial break, Animal and Rosie Perez performed a re-enactment of "Fever" from Moreno's Muppet Show appearance.
The 2015 ceremony, filmed on December 6, was broadcast on CBS on December 29. Other recipients that year included George Lucas, Seiji Ozawa, Carole King, and Cicely Tyson. The ceremony also featured appearances by Lin-Manuel Miranda, Viola Davis and Sara Bareilles.
2019
On July 18, 2019, Sesame Street was announced as an honoree, making it the first television program to receive the award. Sesame Workshop co-founders Joan Ganz Cooney and Lloyd Morrisett are planned to accept the award on behalf of the show.[1]
The ceremony will be held on December 8, and will be broadcast on CBS on December 15. Other announced recipients for this year were Earth, Wind & Fire, Sally Field, Linda Ronstadt and Michael Tilson Thomas.[1]
Other honorees with Muppet connections
Sources
See also
Community content is available under
CC-BY-SA
unless otherwise noted.